yarnQuest by Susanna IC
What is yarnQuest?
I'm very excited to introduce yarnQuest, a series of exclusive knitting kits. The kits coordinate unique hand-dyed yarns and limited-edition project bags with new patterns designed by me specifically for each kit - patterns in line with the already popular Annis, Diantha, Stellaria, and Caireen. Unlike a club, yarnQuest kits are available for purchase in very limited quantities; once sold out, they will not be available ever again. Kits will be announced in my newsletter as they become available - sign up for the mailing list by clicking on the tab above to be automatically notified of new releases.
Why yarnQuest?
As you may already know, I'm a bit of a nomad - originally from Europe, I've lived in two European countries and six U.S. states. Thanks to all of my travels, I discovered an entire universe of indie dyers soon after I fell in love with knitting. Each dyer has a distinctive point of view and unique source of inspiration, which is reflected in the way they color their incredibly beautiful yarns. I also discovered indie sewers who make artisan knitting bags from fabrics that reflect worldwide inspiration. The one thing they all have in common is passion for yarn and color, and I created yarnQuest to be able to share their art with you.
What is in a yarnQuest kit?
A new Susanna IC knitting pattern, which will not be available anywhere else for minimum of six months following the release date.
A skein of yarn dyed in an exclusive colorway created especially for the new pattern.
A limited-edition project bag designed specifically for that particular kit.
A little surprise or two.
US domestic shipping and handling cost is included in the price of each kit.
International shipping to Canada is additional $10; Australia, New Zealand, Germany, and United Kingdom additional $15.
yarnQuest kit #5
$75 -- Only one left in stock!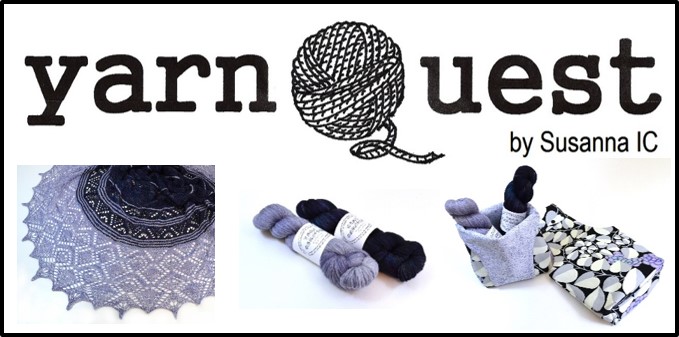 Kit #5 contains:
Umbra, an exciting new Susanna IC crescent shawl pattern featuring top-down construction combined with easy colorwork, texture, and beaded lace. This pattern will not be available anywhere else for six months from the kit's release date; the kit includes a printed pattern and pdf will be added to your Ravelry library upon request. Please note - the kit does NOT include the finished shawl, ONLY the pattern to create your own shawl.
Two gorgeous skeins of fingering yarn from Yarn Carnival, known for unique and brilliantly nuanced colorways - this is nearly 1000 yards of scrumptious yarn. Yarn Carnival High Wire 3-ply (100% Superwash Merino; 490 yards / 100 g); colors: Raven and Winter Storm.
Limited-edition projects bag designed by Magic Junie Sews specifically for this kit; the bags are reversible and convertible, perfect for on-the-go knitting. Each beautiful project bag is fully lined for durability and is large enough to hold the yarn and your work-in-progress with plenty of room for pattern and notions (10.5" wide x 16" tall).
To order yarnQuest kits
Please note that to make each yarnQuest kit possible, all the exclusive components must be created and purchased well in advance and are included in the $75 purchase price. Therefore, all sales are final; no refunds or returns will be accepted.

To ensure timely delivery, kits will be shipped via USPS Priority at no additional cost within the US and APO/FPO addresses.
International shipping to Canada is additional $10; Australia, New Zealand, Germany, and United Kingdom additional $15.

Any questions? Contact me here.
yarnQuest kit #4 | Sold Out

yarnQuest kit #3 | Sold Out

yarnQuest kit #2 | Sold Out

Yarn Carnival fingering yarn
yarnQuest kit #1 | Sold Out

Any questions? Contact me here.

Susanna IC