What is yarnQuest by Susanna IC?
I'm very excited to introduce yarnQuest, a series of exclusive knitting kits. The kits coordinate unique hand-dyed yarns and limited-edition project bags with new patterns designed by me specifically for each kit - patterns in line with the already popular Annis, Diantha, Stellaria, and Caireen. Unlike a club, yarnQuest kits are available for purchase in very limited quantities; once sold out, they will not be available ever again. Kits will be announced in my newsletter as they become available - sign up for the mailing list by clicking on the
tab
above to be automatically notified of new releases.
Why yarnQuest?
As you may already know, I'm a bit of a nomad - originally from Europe, I've lived in two European countries and five U.S. states. Thanks to all of my travels, I discovered an entire universe of indie dyers soon after I fell in love with knitting. Each dyer has a distinctive point of view and unique source of inspiration, which is reflected in the way they color their incredibly beautiful yarns. I also discovered indie sewers who make artisan knitting bags from fabrics that reflect worldwide inspiration. The one thing they all have in common is passion for yarn and color, and I created yarnQuest to be able to share their art with you.
What is in a yarnQuest kit?
A new Susanna IC knitting pattern, which will not be available anywhere else for minimum of six months following the release date.
A skein of yarn dyed in an exclusive colorway created especially for the new pattern.
A limited-edition project bag designed specifically for that particular kit.
A little surprise or two.
US domestic shipping and handling cost is included in the price of each kit; shipping to Canada is additional $10.

An exciting new Susanna IC crescent shawl pattern, Limelight, with top-down construction and textured lace, designed especially for gradient yarns.
A gorgeous gradient yarn in my signature green colors custom-dyed for this pattern by Lizzy of Vice yarns, known for brilliantly saturated colorways.
One of the two limited-edition projects bags designed specifically for this kit by KC's Pockets To Go, known for unique combinations of colors and patterns.

Evansia, a beatiful new Susanna IC crescent shawl pattern featuring one-piece top-down construction and a stunning deep lace border.
A gorgeous skein of fingering yarn custom-dyed for this pattern by Ana of Yarn Carnival, known for beautifully nuanced and saturated colors.
Limited-edition project bag designed specifically for this kit by Junie of MagicJunieSews, known for unique and customized combinations of colors and patterns.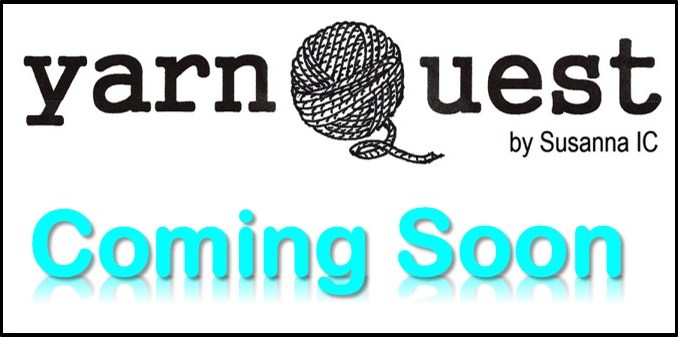 Any questions? Contact me
here
.
Susanna IC